After being inspired by a
this mobile
, I created my own
(tutorial here)
, which eventually evolved into this beautiful Butterfly lamp! I am so proud of how it turned out, and will probably be making various lamps for my etsy shop soon!
After hanging this in my daughter's room, I got a picture of her basking happily in the warm green light.
I even got a quick picture of her happy view. She loves it & so do I. The light and shadows cast on the walls are very soothing and serene. Hope you enjoy our happy little butterfly lamp.
The way the lamp lit up kind of reminded me of the jellyfish I saw in Monterrey.
Which leads me to a future lamp project! Look familiar?
PS - As I previously mentioned, I will probably have some of these available in my Etsy shop soon. I may also post a tutorial if you're interested ;)
Link Parties
where you'll find me.
Here's the Tea Rose Home feature
link!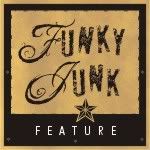 -Mandy