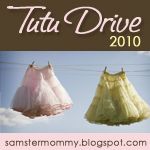 Would you be willing to make a tutu for a good cause? If so,
Samster Mommy
would like to enlist your help. She's trying to gather 100 tutus for
The Princess Alexa Foundation
.
The Princess Alexa Foundation
was started by a mom named Crys, in honor of her daughter Alexa, who lost her battle to terminal cancer. This sweet organization matches up dress-up-clothing to kids who are critically ill, to bring a little sparkle and smile to their lives.
This is where
Samster Mommy
comes in. Her goal is to donate 100 Tutus for girls sizes 2t-10 by July 20th. She is asking us to help to reach her goal. We can take part in the 2010 Tutu drive by making tutus or purchasing them (Or any other dress-up item) and sending them to her and by helping her spread the word to others who may be able to help.
You can find her address to send your donation to and get some more information about the
Tutu drive on her site.
I think this is a great idea and I'm excited to be able to help out. I hope you'll join me.
I thought it might also be fun to send things like capes - if you know how to make those or tiaras if you're a jewelry crafter. Everyone can participate somehow!